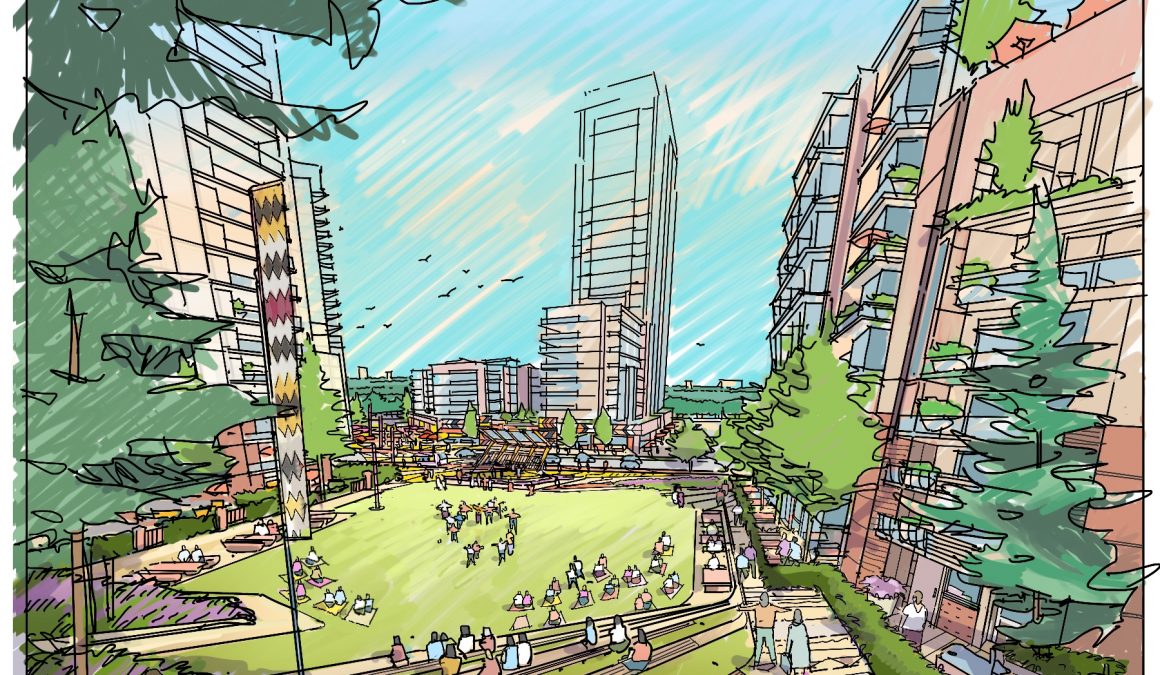 FOR IMMEDIATE RELEASE
Master plan envisions urban village with over 5,000 housing units, a 450,000-square-foot film studio and an Indigenous cultural centre; Sets precedent for the celebration of Musqueam and Tsleil-Waututh culture in Burnaby
(xʷməθkʷəy̓əm (Musqueam) and səlilwətaɬ (Tsleil-Waututh) / Burnaby, B.C. November 19, 2021) – Musqueam Indian Band, Tsleil-Waututh Nation and Aquilini Development unveiled today their proposed master plan for the redevelopment of the Willingdon Lands in Burnaby, B.C. The plan outlines the creation of a mixed-use, contemporary Musqueam and Tsleil-Waututh urban village that will provide approximately 5,000 housing units and include a film studio that will bring more than 3,000 new, long-term jobs to the city.
"Our vision for the Willingdon Lands is to create a contemporary Musqueam and Tsleil-Waututh urban village that provides a cultural experience, is interconnected with nature, and allows us to tell our stories through placemaking and design," says Musqueam Chief Wayne Sparrow. "This is an opportunity for us to continue our legacy as land developers and economic forces within the modern landscape. With this project, we will continue to advance reconciliation and accommodation and create a positive legacy for future generations."
The site's design will incorporate a number of elements inspired by the nations' history, culture, and connection to the lands and waters such as entry portals, artwork, native plants, a medicine garden, and wayfinding signage in hən̓q̓əmin̓əm̓ and English. At the heart of the development will be a Musqueam and Tsleil-Waututh cultural centre and an outdoor hearth that will serve as a gathering place for both the nations and the wider community.
"Storytelling is an integral part of Musqueam and Tsleil-Waututh oral tradition and culture," says Tsleil-Waututh Nation Chief Jen Thomas. "In reimagining this site, we wanted to embed storytelling into the space in ways both big and small – from the film studio, the cultural centre and the community hearth to the use of native plants, hən̓q̓əmin̓əm̓ placenames and educational signage."
Care was taken when crafting the master plan to ensure that it blends in well with the surrounding neighbourhood. With approximately 5,000 residential units, the plan outlines a variety of housing tenures, types, sizes, and levels of affordability that will appeal to a broad range of individuals and families. Housing types include leasehold strata, market rental, moderate-income rental, affordable rental and live-work units in a variety of sizes and formats. A childcare centre is also planned for the site.
Master plan sets precedent for the celebration of Musqueam and Tsleil-Waututh culture in Burnaby
The master plan will be officially presented to the City of Burnaby's Planning and Development Committee on November 23rd and will be followed by public consultations, which will culminate in a public hearing anticipated for next spring.
The connection to the lands and waters is a key component of the master plan. The landscaping will use native plants, trees will be selected for longevity and shade, gardens will feature edible and medicinal plants and rain gardens will naturally capture stormwater. The project will also daylight a section of Sumner Creek, restoring a part of the natural creek system to the neighbourhood.
The inclusion of the film studio in the plan aligns with Burnaby's 2020 Economic Development Plan, which specifically identifies the Willingdon Lands as the site for a new media urban village. The 450,000-square-foot film studio will bring over 3,000 full-time, long-term jobs to Burnaby's film industry. Once it is fully operational, the film studio is expected to contribute over $360 million annually to B.C.'s economy.
"This project is the first of its kind in Burnaby," says Ryan Seminoff, President of Aquilini Development. "We are very grateful to have been invited by the Musqueam and Tsleil-Waututh nations to be a partner on this important project, which will celebrate Musqueam and Tsleil-Waututh culture in Burnaby and add to the growing portfolio of Indigenous-led development projects."
Located on the southwest corner of Willingdon Avenue and Canada Way, the Willingdon Lands lie on the shared territory of the Musqueam and Tsleil-Waututh nations. In 2014, the Musqueam and Tsleil-Waututh nations along with Aquilini Development purchased the lands from the provincial government.
The master plan responds to many of the recommendations made by the Mayor's Task Force on Community Housing in Burnaby. These include introducing a variety of housing forms (including ground-oriented and family housing), creating sustainable and accessible communities close to services and amenities, co-locating affordable housing with community facilities, and increasing the supply of affordable rental housing.
About Musqueam Indian Band
Musqueam people have lived in the Fraser River estuary since time immemorial and are descendants of hən̓q̓əmin̓əm̓ speaking people. We are a proud and culturally resilient First Nation of over 1,300 members. About half of our members live in a small portion of our territory known as Musqueam Reserve, located south of Marine Drive in Vancouver. Many of the remaining members live throughout Musqueam's territory, parts of which are now called Vancouver, Burnaby, Richmond, Delta, North Vancouver, West Vancouver and New Westminster. Our lands and waters continue to support our cultural and economic practices, while serving as a source of knowledge and memory, encoded with our teachings and laws. Musqueam Indian Band has a proven track record of successful economic development projects and partnerships throughout our territory.
About Tsleil-Waututh Nation
Tsleil-Waututh Nation is one of many groups of Coast Salish peoples living in the Pacific Northwest. Oral history tells of up to 10,000 Tsleil-Waututh members living in the traditional territory, before contact with Europeans. Tsleil-Waututh ancestors' survival depended on cycles of hunting, harvesting and preserving foods, and on trade with neighbours. Tsleil-Waututh have a Sacred Trust, a responsibility, to care for and restore traditional territory to its former state. Today, Tsleil-Waututh is more than 600 people strong and growing. The community draws on knowledge from ancestors to remedy past wrongs, reclaim territory and traditions, and advance into a bright future.
About Aquilini Development
Aquilini Development is one of Canada's pre-eminent builder-developers, synonymous with integrity, value and quality homes of the highest standard. With decades of experience and thousands of residences completed and sold, Aquilini remains steadfast in our vision to build communities that are "Full Circle." We believe all communities should be designed and built to nurture human connection, support community legacy and foster diverse living by providing access to a variety of home types and experiences.
Media Contact
Kyle Krawchuk
Elettra Communications
[email protected]
604 613-5506