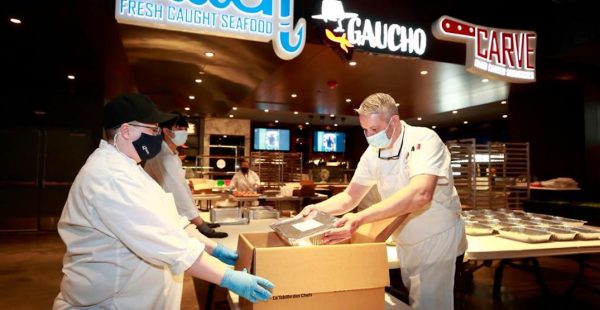 Canucks plan to donate one million meals to families in need
The Vancouver Canucks have been feeding families in need since early on in the pandemic, and now they've set a lofty goal for themselves. After already donating more than 500,000 meals as part of the team's COVID-19 Community Meal Program, the Canucks are looking to double it.
The Canucks have announced that they have set a new goal of one million meals, to be delivered to families before next season.
"The pandemic has impacted so many people, including vulnerable families all over Vancouver's Lower Mainland," Canucks owner Francesco Aquilini said in a press release. "This program started small and has grown thanks to the passion and dedication of our employees. With no fans at Rogers Arena, we've redirected our facilities to help the community. We're going to feed as many families as possible before next season."
The meals are going to various locations and charities across Vancouver, including the Greater Vancouver Food Bank, the Salvation Army, and the Strathcona Community Centre in Vancouver's Downtown Eastside.
The Canucks turned Rogers Arena into a giant assembly line last spring, with staff packing paper bag lunches on the arena floor.
"The Canucks community meals have been a gift of both nutrition and time to our clients, both our individual clients and our community agency partners alike," said Cynthia Boulter, COO of the Greater Vancouver Food Bank.
"For our community agency partners, having prepared meals to pop in the oven for their clients and residents has been hugely appreciated, and a wonderful time saver. Thank you!"
The program was started when the pandemic paused the NHL season on March 12, 2020. It is supported by Canucks Sports & Entertainment, the Canucks For Kids Fund, the Toptable Group, and La Tablée des Chefs.
To read the full article, visit DailyHive.com.