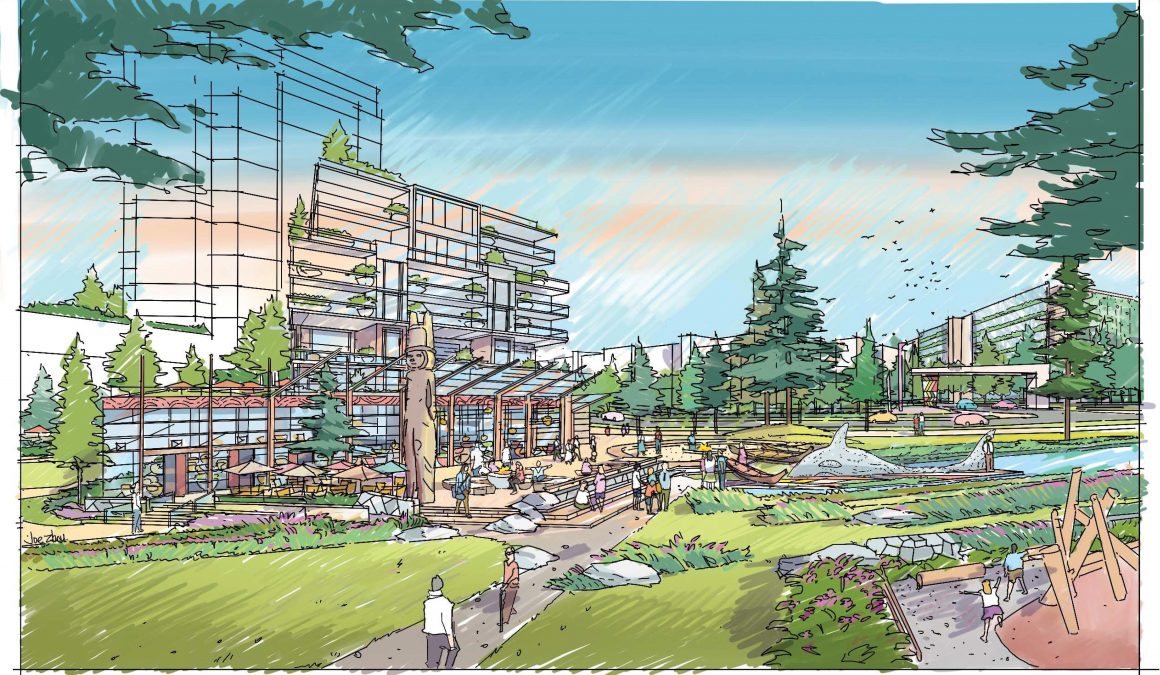 BIV
By Frank O'Brien – June 2, 2022
Burnaby city council approved the redevelopment of the Willingdon Lands May 31, paving the way for the largest First Nation-led real estate project in the city.
The land, located at 3405 Willingdon Avenue. is owned by the Musqueam Indian Band and Tsleil-Waututh Nation, who will develop the property with Aquilini Development Group.
The 40-acre parcel is envisioned as a "contemporary Musqueam and Tsleil-Waututh urban village" according to a presentation to Burnaby council in December 2021.
"The master plan went to public hearing last night and passed with no revisions," Chris Bryan, manager of public affairs, City of Burnaby, told Western Investor on June 1.
The site is within the overlapping traditional territories of the two First Nations, which partnered together to buy the land from the province in March 2014 for $57.9 million.
Located between Brentwood Town Centre and Metrotown, and across from the BC Institute of Technology, the site will accommodate more than 5,200 residential units, including 20 per cent rental and 300-plus non-market units.
Almost four million square feet of residential land is planned.
A further of breakdown of the proposed residential land use includes: 3.3 million square feet of leasehold strata (condominiums and townhomes); 385,000 square feet of market rental; 70,000 square feet of moderate rental and 151,000 square feet of affordable rentals.
The area is tapped in planning documents to become a rapid transit hub in the future.
To accommodate the incoming growth, city planners envision 17 mixed-use buildings in the range of 14 to 20 storeys, four "landmark buildings" between 22 and 25 storeys, and a series of other low-to-midrise, mixed-use buildings.
A 450,000-square-foot film studio will serve as the commercial anchor of the redevelopment and is estimated to create more than 3,000 jobs.
The May 31 approval is to "establish a conceptual master plan and design guidelines for the Willingdon Lands to guide further site-specific rezoning applications for the construction of a multi-phased residential, commercial, film studio, and office development over four main phases," according to the City of Burnaby.
The Musqueam and Tsleil-Waututh Nations, along with the Squamish Nation, have become a real estate powerhouse in Metro Vancouver, now controlling an estimated $5 billion in land and property.
https://biv.com/article/2022/06/burnaby-approves-40-acre-willingdon-lands-project