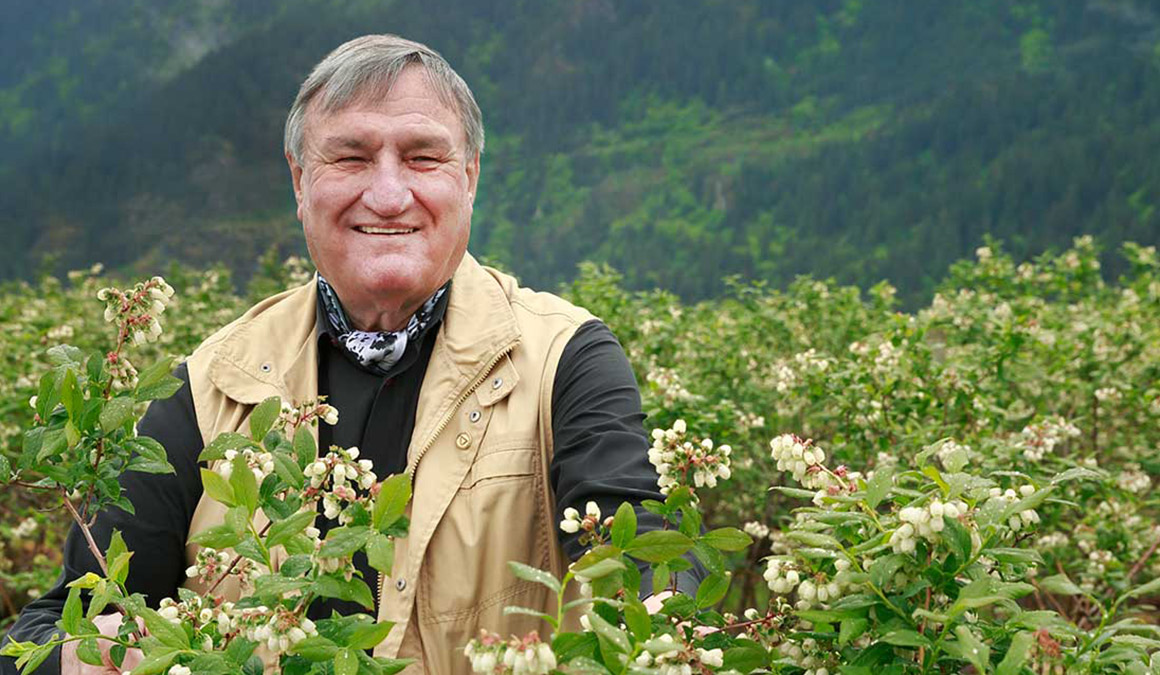 Rags-to-riches stories often offer a glimpse into the highest level of human achievement.
But Luigi Aquilini's tale might top them all.
Emigrating from his small Italian hometown, Luigi arrived in Canada penniless. Speaking little to no English and armed with nothing but a fifth-grade education, a strong back, and a determination to succeed, he set out to provide for his wife and establish a family.
Sixty years later he's one of Canada's most respected and accomplished billionaires — and the proud recipient of an honorary degree from the University of the Fraser Valley.
At 83, Aquilini shows no signs of slowing down.
In the office early each morning, and in the blueberry or cranberry fields frequently, he shares his vast experience and passes on his wisdom to his sons and his employees, setting a daily example of what can be accomplished through discipline, respect, hard work, and long-term vision.
His advice to graduating UFV students is brief, but timeless.
"Go to work," he says.
"Don't be lazy. When there is a will, there is a way."
Aquilini implores the next generation of leaders to strive forward with purposeful intention.
"Always confront the problem. Don't avoid it. If you do, you create another problem. Always dream big — it's not impossible as long as you want it," he says.
"I've had lots of challenges in my life. But when I finish meeting a challenge, I look for another. Always look for mountains to climb. When you reach the top of that mountain, look for another one to climb."
The Aquilinis are well-known as the owners of the NHL Vancouver Canucks and Rogers Arena, and Luigi is also deeply involved with philanthropic contributions and partnerships with First Nations communities, in land conservation, in agriculture (he is one of the largest blueberry and cranberry producers in the world) and with multitude of other businesses, stretching from fish farms to vineyards, apiaries, dairy farms, hotels, and even a Western movie set called Bordertown, among many others.
Led by Luigi, the Aquilinis' business acumen is matched only their philanthropy. They've given tens of millions of dollars to an array of worthy charitable foundations, ranging from B.C. Children's Hospital and Canuck Place Children's Hospice to Ducks Unlimited, the Salvation Army, and the MS Society.
None it would be possible without Luigi's unparalleled work ethic.
Within a year of arriving in Canada, working 14- and 16-hour days, teaching himself the trades he needed, Luigi saved enough money to buy his first house, in East Vancouver. He renovated it late into the night, sold it, and used the proceeds to buy three building lots.
Working diligently, saving carefully, and investing wisely, Luigi gradually became one of the largest landowners in B.C. He preferred modesty to self-aggrandizement and deliberately stayed under the radar.
Now he lives modestly, spending very little on himself. His idea of happiness is to be with his children and grandchildren, sharing a family meal on Sundays. His sons — Francesco, Roberto, and Paolo — were introduced to the business world when they came of age and Luigi taught them the values that have made the Aquilini family one of the most successful and respected families in Canada.
Just as this country gave Luigi the chance to create a better life, he in turn provides that opportunity to countless hardworking Canadians. The Aquilini business interests now provide employment for some 10,000 Canadians across the country, from New Brunswick and Nova Scotia to Vancouver Island.
Luigi says that his proudest achievement is helping others by creating thousands of jobs that allow other Canadians to support their families.
"I want to create jobs for people who want to work hard," he says.
"I'm proud of that, just as I'm very happy and proud to be receiving this honorary degree."